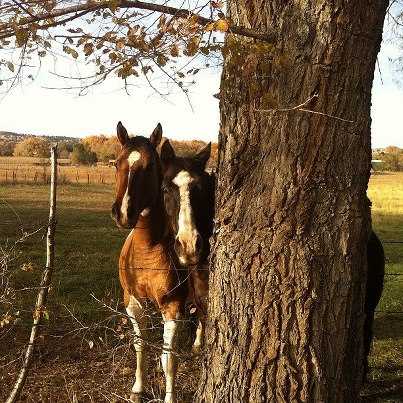 Caretaking Couple officially moved to Santa Fe in October.  We are here on a long-term sit (a year or longer).  The drive from Oregon to New Mexico was an adventurous one, and we arrived just in time for me to help unload and clean before heading off to spend three weeks with family in Connecticut (stay tuned for a separate post).
Sadly, I don't have many photos to share.  My beloved Canon G12 is now beyond repair.  It was never the same after having broken a fall I took back in Oregon (lots of cracked and uneven sidewalks in Portland), and it finally kicked the bucket for good.  So, the few pictures I have are from my i-Phone.
We are actually living on a reservation on the outskirts of Santa Fe.  It is full of peace and quiet and we are smitten.  There are horses and cows in the backyard, along with rabbits, roadrunners, lizards, and the occasional coyote.  The house is a 1950's ranch with an open floor plan and a fabulous fireplace.
Our social lives are much different here than they were in Portland.  We had so much fun there, living right off Alberta Street and being able to walk everywhere.  Now, we are doing a whole lot of hunkering.  It feels right.  We've been out on the town (in Santa Fe) twice so far, and both times were great.  I will talk about our favorite spots to go and some of the cool people and pets we've met soon.
In the meantime, Happy Holidays to you and yours!  Love,
Valynne & Paul